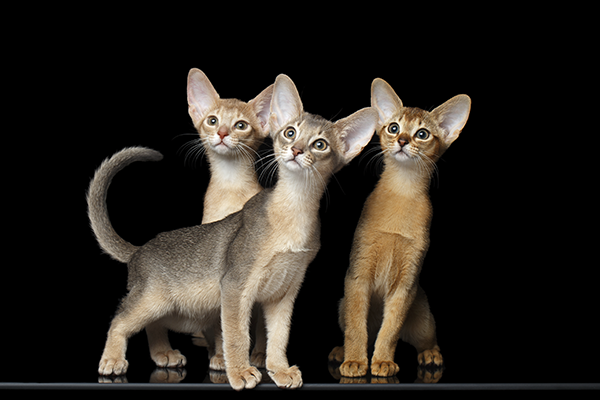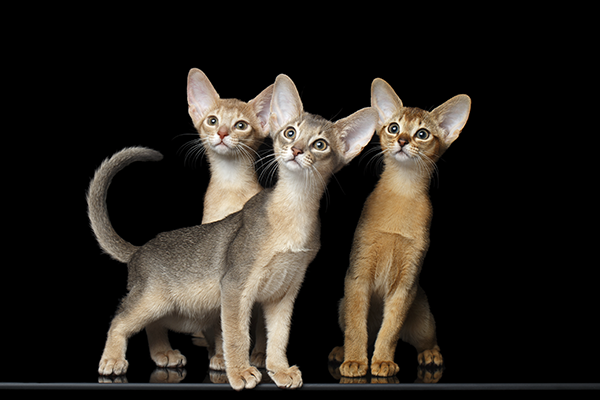 The choice has been made and you have decided to buy an Abyssinian kitten? So you have already decided on the breed. Now you should decide on the choice of color. There are four main types of color of Abyssinian cats – ruddy color (Ruddy), sorrel (Sorrel), blue color (Blue) and pink (Fawn). All these colors are united by the presence of ticking – zonal coloration of each guard hair, which constitutes the background of the pattern on the main warm tone of the coat.
If you buy a ruddy-colored Abyssinian kitten (Ruddy – Aby n), you will see a semblance of a little cougar at home. This is perhaps the most common color in the Abyssinian breed. Ruddy Abyssinian kittens have a bright orange-brown coat with a uniform black ticking. The paw pads are dark (black or dark brown), the nose is reddish brown with dark brown edging. A ruddy Abyssinian kitten will bring joy to your home and charge you with positive energy.
If you decide to buy an Abyssinian kitten of sorrel color (Sorrel – Aby o), then you will choose the second most popular color among Abyssinian cats. Sorrel Abyssinian kittens have a copper-red coat with a chocolate brown ticking. The nose and paw pads are the color of a withered rose. If you try to describe the color of a sorrel Abyssinian kitten in a nutshell, it turns out that in front of you is a red-brown kitten. If you turn to Feng Shui, then an Abyssinian kitten of sorrel color will help you in love affairs, find a soul mate and attract peace, harmony and love to your house.
If you think about buying an Abyssinian kitten of blue color (Blue – Aby a), you will observe a gentle transition from light gray-blue to pink-beige-apricot on the kitten's fur coat, which looks unusual and impressive. Such a noticeable transition of shades – from a cold to a warm tone, is practically not found in other breeds. That is why the blue Abyssinian kitten looks gorgeous and exclusive.
If you dream of buying a pink Abyssinian kitten Fawn (Aby p), then most likely you will face a difficult search, since this color is very rare. An Abyssinian fawn kitten will remind you of a lion cub, the tone of this color is similar to the color of cocoa or coffee with milk, and sometimes it can acquire shades of pink.
In the Benaby cattery you can buy an Abyssinian kitten in any color out of four recognized in the Abyssinian breed – ruddy color (Ruddy / ABY n), sorrel (Sorrel / ABY o), blue color (Blue / ABY a) or fawn (Fawn / ABY p), as well as a very rare color – a silver Abyssinian kitten.